I recently heard from my old friend Roy of the passing of yet another of my mentors. Cahill Rooney died on Good Friday 2021. Along with this news came other news that someone had written a book called "Brothers In Montebello".
The author (Shawn Urlocker) arrived the September after I graduated, so I never knew him, but I purchased the book anyway,buying it online on Monday. It arrived Thursday morning and I devoured it by Friday evening. The stories inside stirred up memories of school mates and names long forgotten and places that I had known intimately. The book mentioned an event that I was involved in. The back cover said that:
"Presentation High school in Montebello was a 'last chance' for Montreal's most incorrigible youth, while also offering a quality education for "regular lads"."
Needless to say, I was not a "regular lad". I did graduate with top grades in English and Religion, and went from being a mediocre student to being accepted at Acadia University.
The book told of the kids at the school and their lives in and out of school. It also mentioned a caper that I had been involved in.
Mr. Rooney was the Vice Principal of Presentation High School. The school year I attended was my final year of high school. 1973-74. Mr Rooney was a character to be sure. Physically, I felt he looked like Roy Orbison. He had a thick mop of jet black hair and black rimmed Ray Ban glasses. He walked on the balls of his feet and it seemed like he was always smiling. He had a way of emitting a short and high pitched "hm" and raised his eyebrows in surprise as he entered a scene. I am pretty sure it was a nervous habit of his, but it made us wonder what he knew and we would wonder if he was "hmm"ing disdainfully or playfully. I often found myself copying this mannerism of his in my own teaching career from time to time, and each time I did, I would think of Rooney.
Cahill Rooney loved cars. He had several classic Jaguars that were not running, but parked on the lawn beside the school. The year I was there he had a Hemi Roadrunner which is a honking big muscle car. I only remember riding in it once, which was a trip to Ottawa and back. The date was Saturday March 16th, 1974. I had convinced some of my pals to come to a concert in Ottawa with me. I played guitar and was becoming increasingly fascinated by things musical. Mr. Rooney took courses in Ottawa and went frequently. He was going that Saturday and we were able somehow to not only get tickets, but get a ride, (we also got some potent LSD) and all this before internet and not having any credit. Rooney was a pretty cool guy, all told.
The concert was a triple bill. The first act was "The James Gang" which at this time had Canadian guitar legend Domenic Troiano on guitar (not Joe Walsh…who had left by then). They were loud and heavy. Not my thing, I was there for Roy Buchanan who was a blues based telecaster slinger who I had discovered while hanging out at Phantasmagoria record store which was a cool store with barnwood, sofas and tropical fish. I heard Roy there and bought the album "Second Contribution" on the spot. I think he came on second, but I can't be sure. I know I loved the music. The other band on the bill was "Soft Machine" which was a prog rock outfit… lotsa synths and I did not relate to them at all. Fortunately the double barrel orange pills we had taken before made all the music and the experience a cloudy jumble. Meeting up with Rooney after the show was a trip in itself…. We were so blotto… every thing he said and every growl of the engine were amplified with cosmic significance somehow. Rooney drove fast! We were doing well over a hundred and twenty. (Miles Per Hour) Canada would go metric in almost exactly one year. Ripping down the 417 from Ottawa to Hawkesbury was like when the Enterprise goes warp speed… all the while with Rooney smiling and "hmm"ing and we feeble ados not able to discern if he knew how fucked up we were… The bridge to quebec and up the road we all knew so well back to Montebello. There is now a high speed bypass from Lachute to Gatineau, but the old road is pretty much as it was then.
That was not "the" caper. It sticks out in my memory, though. I remember Dave MacDonald was with us, and I am pretty sure there were two others but time has erased those details.
AT our "reform" school there were brothers who taught and ran the place and several teaching positions held by "lay people" The year I attended there were two men from Queens, NY . I remembered them as Bart and Steve, but in the book it refers to a Mr. Ross. They both used to regale us of stories of going "clamming" near their native Queens. Very heavy and thick Queens accents. I think they may have been "old boys". We'll call "Bart" "Ross" for the sake of this story.
Ross had an old Volvo like this one: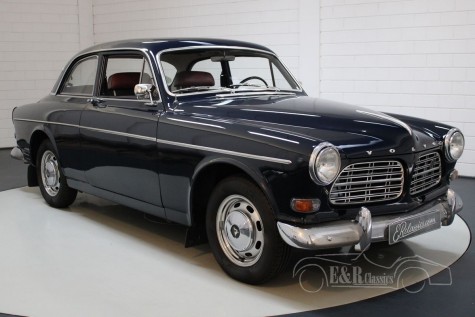 His was easily classifiable as an old car… junker….beater….etc. It had a manual transmission.
One of my classmates (I don't remember who, but probably Dave) came up with the brilliant idea to "relocate" the Volvo as a practical joke. We snuck around after lights out and got to work. We needed many strong boys to push it and someone behind the wheel to steer. Gerry (Muttsey) was the strongest and Bruno was also muscular. There were others, but only hazy in my memory. David and a long haired kid named "Poshton". I had my driver's licence and knew stick, so I was elected the wheel man. The goal was to push the car around to the back of the school and deposit it in the Gym. The school was built on an embankment. Two storeys visible in the front, but two more storeys beneath those levels. We got the car around to the back alright, but hit a snag at the Gym door. The car did not have enough room to turn the 90 degrees necessary to go through the door. We had to lift the back of the car up and swing the tail around without very much room to do it because the sidewalk we were on could accommodate the car, but dropped off severely not unlike a mountain road. When we got the car perpendicular to the school, we realized the gym doors needed to be removed and the car needed to be lifted in the front to get over the threshold and into the gym. Imagine all the grunting and swearing of pubescent boys exerting themselves and picture the bedroom window of Mr. Rooney's bedroom two stories directly above. It is a miracle we didn't wake him.
We got the car into the centre of the gym and someone took a picture. I wish I had that photo now, I don't even remember who took it. About a dozen boys in the middle of the night atop and astride the Volvo. We all snuck off to our dorms and went to sleep feeling pretty damn proud of our collective naughtiness. We were awoken rudely before the usual time by the Brothers and Ross yelling for the grade ten and elevens to wake up. They told us that the Volvo had been stolen and we were the prime suspects. No-one spoke. Muttsey was singled out, but he remained mute. We had a code as young punks to not "squeal". This is before they found it in the Gym… The Securité du Québec officers were there and one officer strolled downstairs and came back grinning and said "J'ai trouver ton auto, monsieur!" and Ross went downstairs and came back fuming and ranting (and smacked a few of us that he was sure were in on it. Muttsey and Timmins….. Still we were all mute. Mr. Rooney came in with a shit eating grin and brother Raymond came in smirking as well. They lectured us and made us skip breakfast and we had several duties piled on the lot of us. That was it.
I felt kind of bad because Ross had gotten up very early to drive to Montreal for a dentist appointment which he ultimately missed. We really loved the guy, and were totally not thinking of the ramifications or consequences of our brilliant, but admittedly delinquent caper. Idiot boys.
I am pretty sure that Brother Raymond and Mr. Rooney were secretly proud of our teamwork and our ingenuity in pulling this off even though they feigned anger, disbelief and revenge. I can picture them sitting over a scotch and howling with laughter at how their incorrigibles did.
I am quite sad that I couldn't find pictures of Cahill Rooney (the right one…) on line. He was ultimately a very private man. I have many pictures of him etched into the recesses of my brain and another memory of seeing his name in the Gazette in 2012 in regards to a development project in Shaughnessy Village where his home backed onto the development. I checked the phone book for Rooneys and found one on Chomedey Street. I knew the street as I had had an apartment in a converted townhouse there in the 70's. I called him up and we chatted a bit agreed to meet up at a café nearby on another day. He was thrilled to know I became a teacher and was eager to discuss my music with me. Alas, it never transpired. I regret it. My life was about to become unmanageable as I was close to burn out my job, my mother's health, worry over one of my children and my marriage had unravelled beyond repair.
Now he is gone. We never have anybody forever, but having him ever present in my memories and habits will have to do. I am surely not the only boy he ever helped as I see from Urlocker's book. I intend to have a chat with my buddy Roy who went on to help him establish his own school in Aylmer, Quebec a few short years after I graduated.
I have another tale from school days here: